Adah Kennon Author
Book Author (The Niche:Twin Flame Mysteries – Fiction/Mystery-Detective; Visionary-Metaphysical)

October 2021

Masquerade
A Newsletter for the lover in you
Inspiration, Surrender, Seductive Promise …What turns you on?
Maybe a good old fashioned heart-pounding, itching to turn the page, sizzling, spine-tingling, crime driven novel (with a metaphysical twist).
Find what you're looking for in Masquerade, the Newsletter that leaves you wanting more.
October
Halloween. Countdown to the witching hour. Powerful spells cast by full moon, costumes, pumpkins, 'trick or treating,' ghosts and … cemeteries
The Niche:Twin Flame Mysteries: Book 1
Did you know that love after death … endures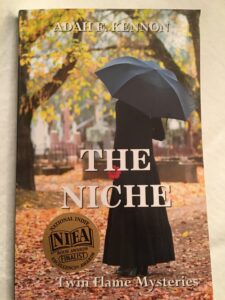 Meet Little Sheila, the fearless heroine of my crime driven romance novel. She helped one man go to heaven, another man go to hell, and showed a third man how to linger in-between …
Excerpt
…I thought to myself, Sheila you have finally gone over the edge. (That was exactly what both detectives were thinking.) You saw his body go into the oven. You're wearing a locket that holds some of his ashes. Maybe this is just a – hallucination? Yes, that's it – just a vision; but, it seems so damn … real. I called-out to Ron, but he didn't respond. He seemed to be asleep but not asleep … definitely trancelike. There was no vent or window nearby, but I felt a cool breeze lightly brush my cheek. The voice continued, 'I'm no longer sick. There is no pain. I looked around the corridor, wanting to believe that someone was playing a practical joke on me. Determined to show that I wasn't going to be taken in that easily, I stood up, put my hands on my hips, and said, 'If this is real, then I should be able to see you.' Why did I say that? A light came from the niche, dim at first, then so bright that I had to turn away. When I looked back, I saw … something that looked like Thomas. Yes, it was Thomas or what he had become. Bathed in a blue light, he stood there, smiling at me, looking as he did the first night we met. I could even smell the woody musk scent of his cologne. Still refusing to believe, I reached-out to touch him and my fingers went right through his … arm. He touched me, sending needle pricking sensations in my arm from my shoulder to my fingertips. He said, 'I have something important to tell you. The scales of life are sometimes unbalanced … you must set them straight … my death was no accident … get the proof … watch your back … our team will endure.' Then the blue light and everything within it began to fade until there was … nothing…. (Ch 17, p.105-106)
Reviews ~
"Well-written, this is a great way to while away a couple of hours, taking you away from the trials and tribulations of today's world into one where you can lose yourself in someone else's drama." (Anne-Marie Reynolds, Readers' Favorite, Book Reviews and Award Contest, 2021)
"The Niche was a page-turning read that was hard to put down. I was quickly drawn in to the world that the author crafted. The story has the right mix of romance, mystery, and mysticism. It was an enjoyable and engaging story!" (Frost, Reviewed in the United States on March 12, 2021)
"Good story! Couldn't put the book down. An easy read….This story had an interesting start. There was very good character development. The plot was unusual with a twist at the end." (Laurie J. Keilman, Reviewed in the United States on February 21, 2021)
"Great preview for a suspenseful, well- written mystery!" (NewBookAuthors.com/ Explore Authors Magazine)
October Party Tip ~
How about a buffet: Chilling Candy Apples, Creepy Cookies, WeirdParty Pizzas, FoamingSherbert/Ginger Ale/Dry Ice Punch and don't forget the decorations ….
What's in the works ~
If you thought Little Sheila was something else, wait until you meet Edna (and her men,Book 2). Dark and stormy is an understatement!
Sign-up for Masquerade and get:
*Chapter Previews/Excerpts
*Tips and Tidbits
*Personalizations, and
*So much more!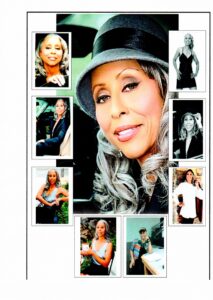 Until Next Month~
Sweet Dreams
https://adahkennonauthor.com