Today, my husband complained about a pain in his right leg. He was recently diagnosed with a blood clot in his left leg, and we didn't want to take any chances. Since he is already taking a blood thinner, we called both his cardiologist and his hematologist. Representatives from both offices advised us to go to a "Hospital Emergency Room" or a "Quick Care Clinic." We try to avoid those environments, because he is on hemodialysis. His immune system is compromised and he is in his 80's. It does him no good to wait for long periods of time, and be exposed to all of the germs in those locations; however, they gave us no options.
As I surfed the net for possible locations, I ran across what turned out to be "heaven-sent" information. Las Vegas residents, HEADS-UP! Did you know that there is a "mobile health service" that will come to your home and provide many (if not all) of the same "urgent care" services that you receive at a hospital ER or Quick Care Clinic?
DISPATCH HEALTH provides "on-demand" urgent care in your home, work, or any place of need. These mobile units arrive, fully-loaded, to treat what ails you. Staff includes board-certified practitioners, and EMT's! Once we called them, they arrived at our door within two hours. Following their assessment (conducted in the comfort of our kitchen), a referral was made for an ultra-sound. They made one telephone call, and an ultra-sound technician arrived at our home within one hour! That procedure was conducted in the privacy (and comfort) of our family room! Arrangements were made to send all reports to each of my husband's doctors, ASAP. You know, the one's who told us to go to the ER! We highly recommend them. Zero travel time for us! Before I give you their current info, enjoy this short video, aired on CBS Denver (2017).
This is their business card, which includes their Las Vegas, NV contact information.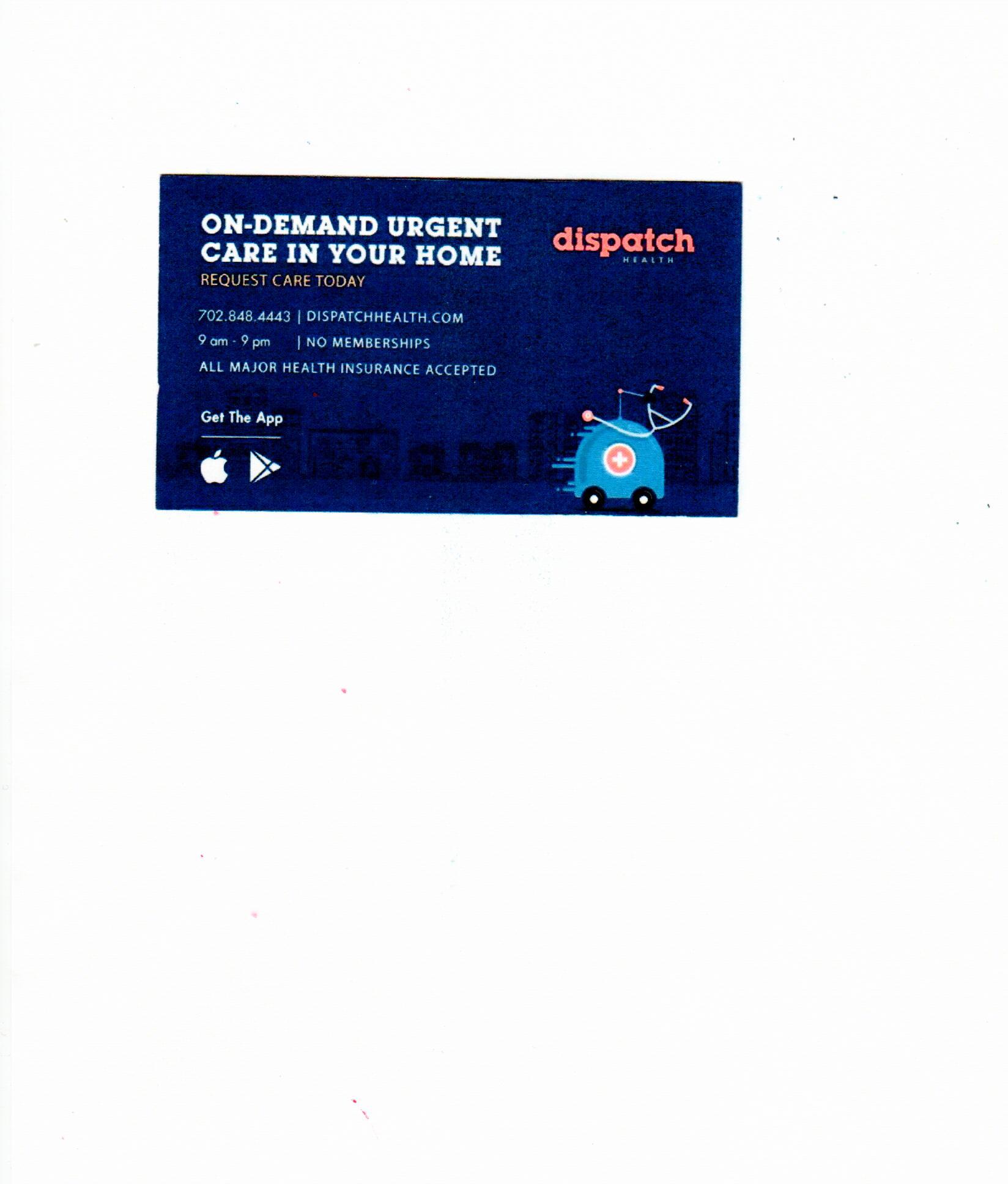 DISPATCH – On Demand Urgent Care In Your Home
(702) 848 – 4443
9am – 9pm
All Major Health Insurances Accepted